Pastoral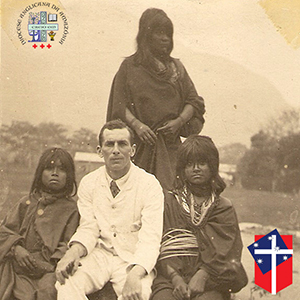 Dear Rev. Moss
Peace and Goodwill
Reading your last writings at the end of your period as Chaplain in Belem,
dated October 1930, before your return to the capital of Para after your retirement, I found these words :"I would like to especially express my hope that the record book will be kept safe in the church for future reference."
Sadly I have to tell you that the majority of your reports have been lost, but some have actually been preserved with great care. They are now important instruments
with which to rescue the memory of a fundamental period of our history.
Anyway, I would like to say that, in addition to typed pages of statistical, financial and pastoral data, you left a community of faith. Perhaps no-one would have believed
that it would have continued steadfast for such a long time, the situation having been very difficult here. Edward Francis Every, Bishop of the English Chaplaincies in South America, noted that the economic depression [of the 1920s & 30s] in the North of Brazil was worse than in other parts of the world, many immigrants having left the region and the remaining living in poverty.
He also wrote that "The Para Church avoided disaster and did not close": - only as a result of your work. Fine, then, my brother, we are here, celebrating 97 years. And this, thanks to you!
It is certainly true that you would not recognise Belem: the city has changed greatly since then, now we don't see as many Lepidoptera as before; they have been, in part, decimated by pollution. Some people still remember how you, as a serious student of insects (an entomologist) went out with your net to capture butterflies so you could catalogue them and sent your research findings to the Museum of Natural History in London. And the orchids? Remember that you wrote a book on orchids in Belem?
Some remain in parks, museums, and our garden…
Also, we are no longer a Chaplaincy for immigrants, but a community formed principally of Brazilians. Remember that you were concerned about the descendants of Barbadians who were required to read and write in English?
Many of these still remain with us, second, third, fourth generations, but now are completely acculturated… Their Caribbean antecedents form a memory that is cherished, but is a very distant one, separated by long years.
Things have changed a lot! We have now formed a Diocese, involving five States of the Amazon region. Imagine how much ground we have to cover; but I am sure that
you well know how things are - no little effort to minister to the people on the Madeira-Mamore railway, in Porto Velho, in Recife and in Salvador. And we know that the travel conditions at that time were much more difficult than they are now. We are nine communities in our Diocese, I know that it is not many for such long period of history, but we will do whatever is possible within our limitations, confident in the presence of the Holy Spirit.
And the parish that you built is a Cathedral, a Mother Church, one which has the mission of becoming the centre from which evangelism radiates out. I also have news that is not too good; remember the pipe organ that you were with during all the process of its construction? To the point at which it was dismantled so the parts could be sent to Brazil? It was destroyed by termites and the pipes were sold to what was then the Anglican Cathedral of the Holy Trinity in Recife. We have not been able to restore it. I truly think that you know many things now, because I think that you receive news from those who have now departed for the "heavenly mansions". I would also like to tell you that Daniel is no longer our gardener and we no longer have an orchard… On the other hand, we have an excellent gardener, perhaps even
as good as Daniel, and our garden continues to look very beautiful . You must see it. but there are only two or three fruit trees.
To close, my brother, in the name of the Anglicans of Amazonia, in the name of the Episcopal Anglican Church of Brazil, in the name of our Ecumenical partners, I would like to thank you greatly for your devotion, for your love of the church. This is why I am writing to you… One day, as it says in our prayer book in Portuguese (it is not sensible to continue using the Book of Common Prayer from 1662), we will meet at the "thresholds of eternity". Then, I will give you a big embrace in person.
Yours in Christ
+Saulo Barros
Bishop of the Anglican Diocese of Amazonia.

*Translated by Philip Howse.